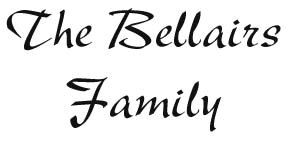 ---
Mal Bellairs November 9, 1919 -- July 12, 2010
---
Happy St Patrick's Day
We found a few tapes that Mal recorded in or about Ireland. Click here to listen to them.
Even if you have found this page and it is not St. Patrick's day, you may enjoy listening to Mal and Jo, and you will hear their great fondness for Ireland and the Irish.
Mal wrote a memoir about his years and friends in County Clare Ireland. You can click to view in your browser or click to download his book in pdf, Now, Why Is It Ye're Comin to Ireland?
---
Mal interviewed Virgina O'Hanlon Douglas on Christmas Eve 1968 about her letter to the editor and the famous "Yes, Virginia" reply she received.
---
The Christmas Show is now online for you to play.
---

The Illinois Senate adopted a resolution mourning the passing of Mal and expressing sympathy to the family.
Click to view a City Council resolution honoring Mal.

---
This is a web site for members of the Bellairs family, starting with the family of Mal Bellairs from Chicago, Illinois. If you are interested in joining this page please send a note to the clanmaster.
---
Mal's "White Fence Farm" commercial is at the Museum of Classic Chicago Television. Click here to see it.
---
Mal & Maria Bellairs -- join us in enjoying Mal's Fourth of July in Ireland and Liscrona House in County Clare.
This story is from a longer work Mal wrote to describe his love affair with Ireland and the people of Doonaha, County Clare. Want more? Mal's story. A file with the complete work can be found here.
Here are links to Mal and Jo's tapes about Ireland and the Irish:
---
In about 1951, Mal did a TV show in Chicago called "What's Your Trouble." This was a real community service program that dealt with real problems. Follow this link to see one woman's memories from this early TV show. Helping to place a problem litter of puppies gave a child a friend she would never forget.
---
Remember "What's the Answer"? What's the Answer was a knowledge and skill based quiz show for students from Chicago area schools. Scores were toted up with stacks of Salerno cookies. The winner got to keep hers, IIRC. The show was on TV in the early 50's. Mal was the host and quizmaster.
If you were a player let us know.
---
Shep & Chazz Do Guelph
Shep and Chazz are two extremely intelligent Border Collies. They give you a quick tour of some of the highlights of Guelph, Ontario.